Master Roof Plumbers, Roofrite, shares its secret
So. You've chosen the best looking skylight on the market for your metal roof.  But did you get the best installation tip with that?
Did your installer suggest a custom made flashing?  Probably not unless the installer is a licensed roof plumber with an eye for detail.
One of the biggest advantages of using a licensed roof plumber such as Roofrite for the installation of your Velux Skylights into a metal roof is that a roof plumber is able to custom make the flashings. The flashings are the pieces of folded metal that form a collar that then sits underneath and on top of the metal roof sheets around the skylight.  Its function is to completely seal the Velux Skylight against water ingress.
What difference will it make to your Velux Skylight to have custom made flashings?
This is perhaps best demonstrated using visual images.
Velux Skylights with standard flashings
The image below shows a Velux Skylight that has been installed into a metal roof using a flashing kit that comes standard with the purchase of a Velux Skylight.  It catches the eye for all the wrong reasons:  it looks a bit gappy around the sides and it has a "frilly" skirt at the bottom which isn't color matched. Not the most attractive finish you'll see on a Velux Skylight.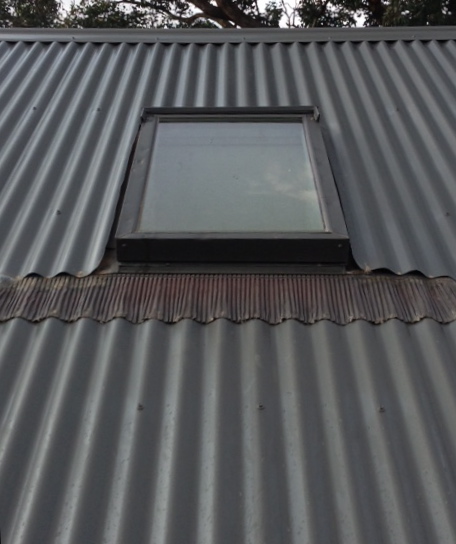 Velux Skylights with custom made flashings
The next image shows a Velux Skylight that has been installed using custom made flashings.
See how this second image has more visual appeal? The custom made flashings have been made using the same colored Colorbond metal as the Colorbond roof it sits upon. It blends seamlessly into the roof with no frilly, apron-like, skirt across the bottom; just a nice tidy finish. And no gaps either.
So, if you're thinking of having Velux Skylights installed into a metal roof ask the authorised Velux Skylight installer, ideally a licensed Roof Plumber like Roofrite, to provide you with custom made flashings as part of the installation. A licensed roof plumber can also provide you with a VBA Plumbing Compliance Certificate for the installation of the skylight – your workmanship warranty valid six years.
You'll be much happier with the result.
And remember – it will be there for 20 years or so, so don't risk an aesthetically unappealing install for your Velux Skylights when you're dealing with such a beautiful, high end product.
Call Roofrite today to discuss your Velux Skylights purchase and/or installation requirements.
Tel:  03 9499 8059