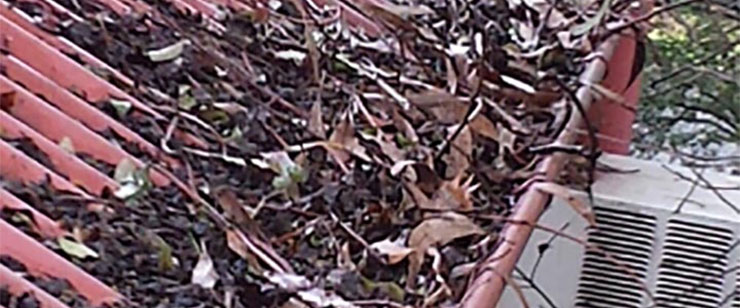 Tips for Maintaining Your Guttering - Part 1
What to look for when carrying out a gutter maintenance check
Carrying out a gutter maintenance check is easy if you know what you're looking for and take some precautions to prevent injury in the process. Roofrite shares some industry wisdom:
Think Safety First
It goes without saying that any work you do around the house that involves a ladder, especially when working on your guttering, requires extreme care.
. Before you start, look up and around you. Do a quick safety check of the surrounding environment so that you are aware of hazards around your home such as power lines: Worksafe recommends a safe clearance work zone of 3m.
. Use a sturdy ladder or a platform placed on flat stable ground rather than standing on the roof and leaning down to the gutter.
. A non-slip mat over the guttering will stop your ladder from scratching it.
. Remember that it is safer to get down and move the ladder across instead of leaning past the footprint of the ladder. Leaning past is a sure way to cause the ladder to slip sideways and cause yourself an injury.
. Guttering can contain all types of debris so wear thick protective gloves.
Inspect Regularly
Guttering should be checked every six months. The most practical, and easiest to remember, is at the end of autumn and at the beginning of spring. Of course, if you live somewhere heavily treed then you should probably check even more frequently.
Bluescope Steel suggest checking your newly installed guttering regularly for the build-up of debris. If cleaning is needed, say after four months, then that would be your regular maintenance period.
What to Look For
During your first inspection, look for any loose steel debris that may have been left behind after installation. Subsequent inspections should:
. Look for any build-up of dirt and salt deposits on the fascia and the underside of the guttering. Also look for deposits around joins, brackets, rivets and screws.
. Look for a build-up of debris inside the guttering (especially the high end), such as leaf matter, dirt and possibly fungus.
Look for Part 2 in our Guttering Maintenance Series
– How to Clean your Gutters & Downpipes