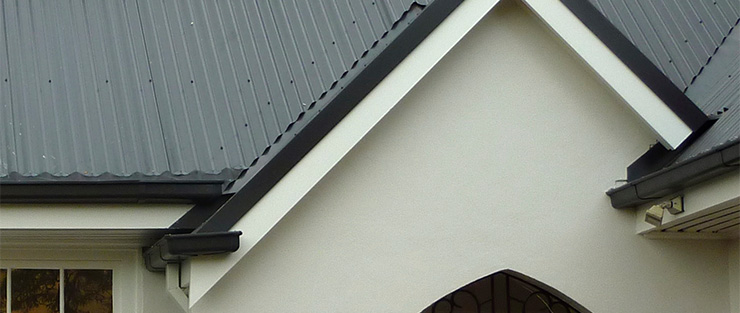 Choosing a Colorbond Colour
The important thing, first and foremost, when choosing a Colorbond Colour for your metal roof and/or guttering is to enjoy the process rather than getting tied up in knots over it!
Hopefully the tips below will help you with your selection.
Start With The Style Of Your Home
Metal roofing and guttering comes in 22 Colorbond colours which are split into classic and contemporary palettes, so the starting point is to determine the style of your home.
What is the style of your home?
Have a good look at your home. See if you can categorise your home into a particular style. For example is your home of a contemporary design or a heritage style? Or perhaps it has more of a ranch or farmhouse look to it? What about beachy, modern or traditional? Ideally, you will be able to categorise your home into one of these styles. This will then help you to work your way into the Colorbond colour palette either along classic lines (farmhouse and traditional for example) or contemporary lines (beachy or modern). Still struggling? Then try thinking about the Colorbond colour range from another angle.
Look At Your Landscape and Environment
How does the house sit in the surrounding landscape and environment?
For example, if your home is in the country with surrounding verandahs something from the grey/green colour palette might suit. Try Woodland Grey or Pale Eucalypt if you're looking to blend into the environment. If you're looking to contrast with the landscape and create a traditional look, a Manor Red roof may look better.
What about a composite contemporary style? You may want to draw on the colours of the surrounding homes and the streetscape. Jasper, Monument, Dune and Ironstone are contemporary colours that will nicely co-ordinate in an urban environment. Night Sky is pretty popular too.
One colour that goes everywhere and has the additional benefit of great thermal properties is the Colorbond Coolmax colour, Whitehaven: a gleaming white it will sit well in town or country on modern or traditional.
Consider Your External Finishes
There are other considerations. You will need to consider the other external finishes that will go with your Colorbond colour selection for your roof and guttering such as the finish on the walls. Is it brick? Timber cladding? Weatherboard? Stone? Render? Colorbond Cladding?
Create a Colour & Finishes Board
If you already know the external finishes but are still undecided on colours, consider creating a Colour & Finishes Board on which you can assemble all the samples and finishes in one place. This way you will see how they create a colour and textural story.
You can add your paint colours to the Board too. This will help pull everything together.
Online Colorbond Colour Visualiser Tool
Colorbond have a great online tool that might cut down a bit of time.
Click here to try out the Colorbond Online Colour Visualiser. It is fun and enables you to utilise all the elements we've raised here.
Of course, once you've finished working out your Colorbond colour for your roofing and/or guttering, or even if you'd like our professional input, give us a call at Roofrite to book in a free quote for the supply and installation of all your Colorbond products.
We service all of Metropolitan Melbourne particularly in and around Ivanhoe, Heidelberg, Rosanna, Preston, Northcote, Thornbury, Fitzroy, and Carlton.
Call Roofrite on (03) 9499 8059 to discuss your needs today.