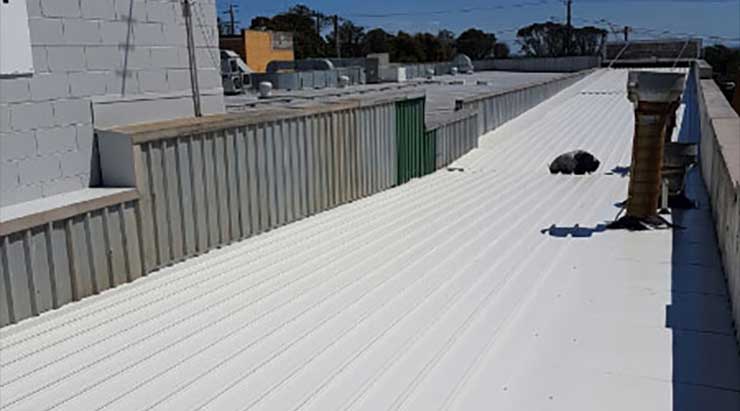 Project:   Commercial Roof Repairs and Metal Roof Replacement
Location: Mornington Peninsula
Product:   Colorbond Surfmist
Roofrite have a stable of property managers for whom we regularly undertake commercial building roof repairs and roof maintenance. Occasionally, we come across a roof where nothing more can be done to make it watertight without replacing it.
Large Commercial Roof Maintenance and Replacement
During 2016 we undertook a large commercial roof maintenance and replacement project for a supermarket. Some sections of the roof simply needed maintenance works carried out. For example, an application of a liquid rubber sealant to joins and penetrations was enough to prevent water ingress in parts or to delay deterioration of existing sealants. In other areas we were able to install small patches to cover splits in the roof sheets.
Flashing and Gutters
New flashings were installed across various sections of the roof.
Box gutters were replaced in some areas. To overcome water ingress in one section, steel purlin battens were installed to raise the height of the roof to enable us to install a deeper box gutter. New sumps and overflow outlets were installed to the box gutters too.
Roof Replacement
A 96m2 section of Klip-lok roof was replaced including the installation of new safety mesh and Anticon insulation blanket.
Safety
Due to the height of the building, the length of the sheets, and our commitment to Worksafe OH&S safe work access requirements, a crane was required to lift roofing materials onto the roof.
Investment
The cost to the client of removing the old roof sheets and other rubbish from site was kept to a minimum by the use of skips in conjunction with metal recycler provided bins for metal rubbish.
The size of this project meant it took a couple of weeks to complete. Pricing for a project of this scope and size would typically fall in the vicinity of $40,000 - $50,000.
Call Roofrite on (03) 9499 8059 to discuss your Commercial Roof Repairs and Metal Roof Replacement needs today.