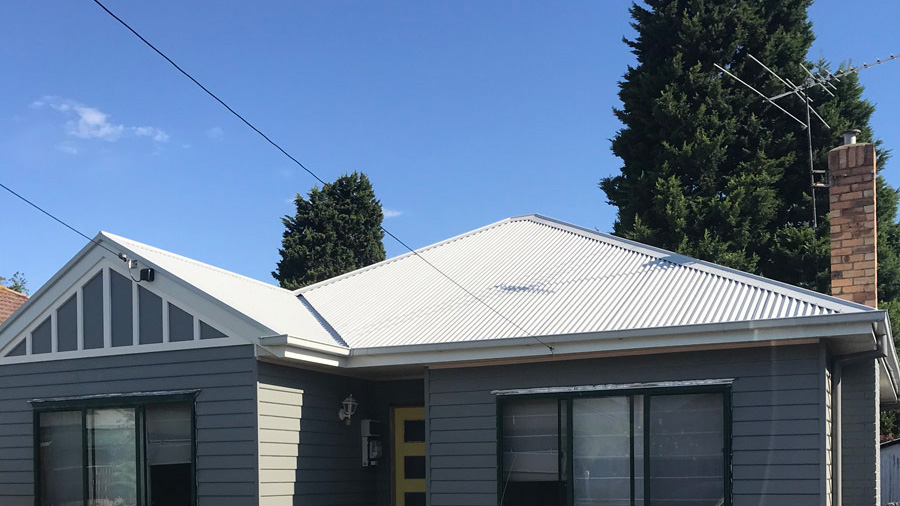 Tile to Metal Roof Conversion – An Aesthetic Update
There are many advantages of changing a tiled roof to a Colorbond roof not least of which is the load bearing on the frame of the house itself – lightening it can only be a good thing. But for many people, it can be nothing more than aesthetics. Colorbond roofing offers such a great range of colors in a way that tiles never can.
This is never more apparent than when you look at the before and after photos of a tile to Colorbond roof replacement.
The tiled roof at this property in Pascoe Vale had come to the end of its life. The owners had already made up their mind to replace the tiled roof with Colorbond and to update the guttering and downpipes. Quite typical for this type of home, the eave sheets were asbestos.
Tile to Metal Roof Conversions – Pricing
Our quotation included replacing the tiled roof with Colorbond roofing (around 135m2) including installing new top hat battens for the metal roof to screw to and laying Anticon insulation blanket under the new roof plus all associated cappings and flashings. Typically a tile to metal roof replacement of this size comes in at around $17,000 - $20,000 depending on access and the complexity of the roof line. Removing the tiles is labour intensive so if we can get a skip up next to the house to enable us to just throw the tiles straight from roof to skip, a small saving on labour can be managed.
Tile to Metal Roof Conversion – Eaves replacement and Guttering Pricing
We also quoted to have an asbestos removalist company remove the eaves sheets in accordance with EPA regulations and then installed new cement sheet eave lining boards to replace them. We also quoted to supply and install new Colorbond fascia cover with Colorbond Quad eaves gutter and 4 new downpipes. Roofrite always provides its staff with the safest and quickest access to get a job done so some scaffold hire was included in the quote to ensure we met with Worksafe's best OH&S safe work practices. A typical eaves and gutter replacement of this nature including asbestos removal generally comes in around the $10,000 mark.
Tile to Metal Roof Conversion – Compliance Certificates
Asbestos Visual Clearance Certificates and VBA Plumbing Industry Association Compliance Certificates are all included to ensure everything meets all regulations.
Tile to Metal Roof Conversion – Add Value to your Property
As can be seen, the change in roofing and guttering has enhanced the house's street appeal immensely and no doubt, its real estate value. Of course, a lick of paint also makes a difference. It looks sturdier somehow and looks so much more inviting.
Tile to Metal Roof Conversion - Testimonial
The clients are thrilled too.
"Thanks very much, please pass on to the team that we are very happy with the end result."
Call Roofrite today to obtain a quotation to improve your property's street appeal.