As roof plumbers, we're often asked, "Is it possible to replace a tiled roof with a steel roof (also referred to as metal or tin roof)?"
Our short answer is yes! 
We've just completed this type of project for a client in Heidelberg Heights.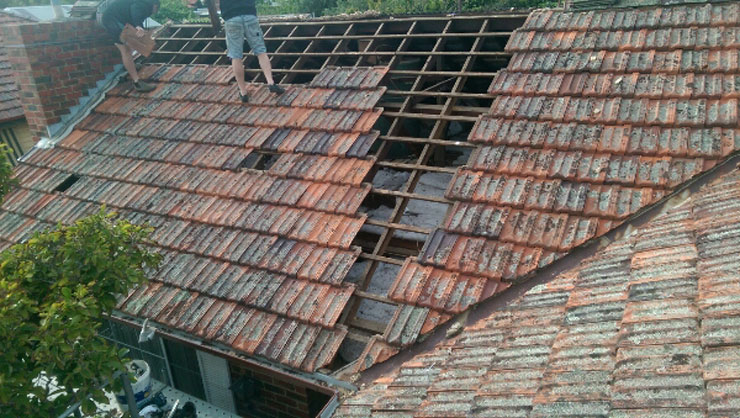 The Benefits of Updating a Tiled Roof with a Colorbond Steel Roof
Metal vs Tiled Roof
The benefits of swapping a tiled roof to a Colorbond steel roof are many:
less weight for the house structure to bear,
better thermal properties, particularly if you choose Coolmax for your Colorbond steel roof finish,
no maintenance other than ensuring leaves are not collecting on it,
Colorbond roofing has a high tolerance to heat and flames and is therefore defined as non-combustible, and
it offers great security against illegal entry and outperforms tiles in hailstorms.
The tiles on this roof were in poor condition and the client was faced with a total roof replacement. The house had a zincalume skillion roof at the rear and the zincalume garage roof was quite rusted and in need of replacement too. As he was already investigating the replacement of these two roofs, we also quoted to replace the tiled roof with Colorbond.
One of the client's concerns with the tiled roof, and a deciding factor for change from tiled roofing to Colorbond steel roofing, was the burden the weight of the tiled roof was imposing on the walls and foundations; a concrete tiled roof on an average sized house weighs approximately 12 tonnes compared to an average sized Colorbond steel roof weighing approximately one tonne!
On this particular project we quoted to remove approximately 150m2 of roof tiles from the main pitched roof and then install 200 lineal metres of new 75x25mm treated pine battens to support the new Colorbond steel roof.
Why We Install New Roof Battens
For a couple of reasons, our preference is to install new battens when replacing tiled roofs with steel roofs. One reason being that older battens tend to have been nailed on to the rafters. If we screwed our roof sheets into the nailed on battens, the potential exists for extreme high winds to pull the battens free from the rafters taking the roof with them. Roofrite's policy is to screw the new battens into the roof and then screw the roof onto the battens ensuring optimum fixing of the roof to the supporting structure.
Another reason we prefer to replace the existing battens is that as they age they can become quite dry and brittle so they have a tendency to snap quite readily or become so dry they become difficult to screw into.
Colorbond Corrugated Iron With Insulation
150m2 of Colorbond corrugated iron in Jasper was installed to the main roof and 52m2 of new Colorbond Klip-lok roofing to the rear skillion roof . Blanket insulation was installed as the roof was laid. We also replaced 22m2 of corrugated iron on the garage roof. New Colorbond cappings and flashings to suit each roof type were also installed.
When removing a tiled roof, the cost of removing the roof is lessened if a skip can be delivered alongside the house enabling us to throw the tiles into the skip straight from the roof. If we are unable to get a skip close enough, as sometimes happens, we have to factor in the cost of our team carrying all the tiles down ladders and walk them to the skip.
Maintaining a Water Tight Roof During Installation
To ensure a water tight roof at all times during installation, we only remove as much of the old roof, tiled or steel, as we can cover in a day.  As you can see in the image below, our happy team are only stripping sheets as they go – the new sheets are side by side with the old sheets.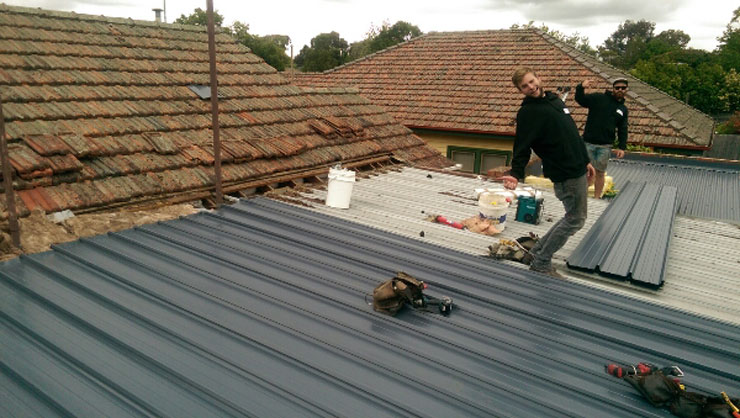 Adding a Solatube Econotube Skylight in the Entrance Hall
The client in this instance also wanted to bring more light into his home.  To help him achieve this goal, we recommended replacing the existing aged skylight in the bathroom and installing a couple of additional skylights into the kitchen and hallway.
We installed a Solatube Econotube 400 with a flexible shaft and curved ceiling diffuser into the roof over the front entrance hall.  This type of skylight is great for getting a lot of light into an area that you may not necessarily want to have a plaster shaft in.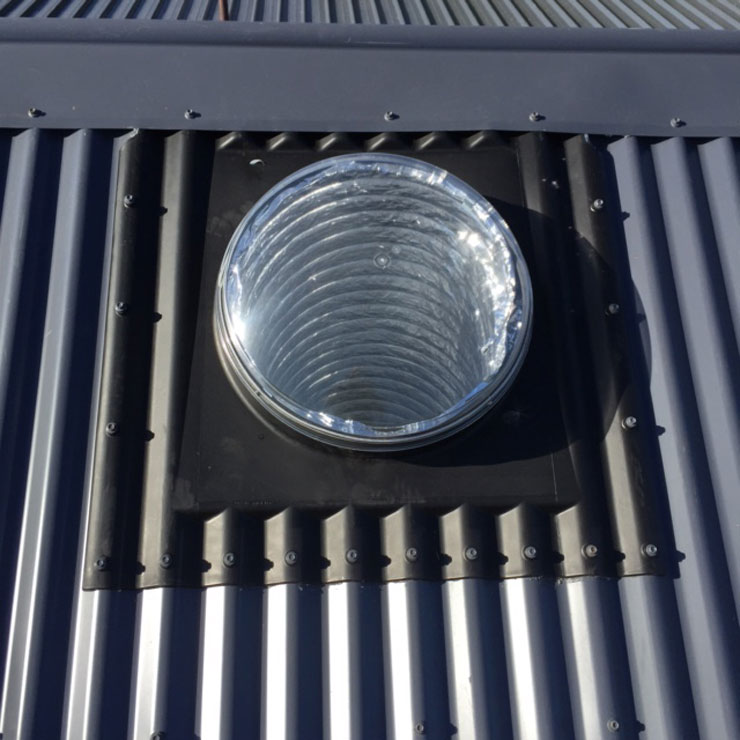 Adding Velux Skylights to the Bathroom and Kitchen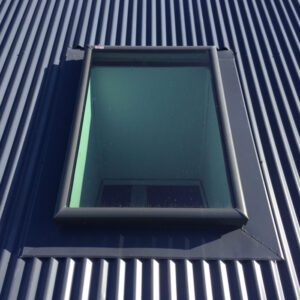 We also replaced in the bathroom a tired unattractive skylight with a beautiful Velux Skylight. We recommended a Velux FCM 3046 because this would enable us to just lift off the existing skylight and fit the new one straight over the existing opening. This is a non-opening skylight with double-glazing to keep the space cool.
A further skylight was installed into the kitchen.
We recommended a Velux FS M04 Skylight; another fixed, non-opening, skylight with double-glazing and a solar blockout blind. We built a shaft and then hung the plaster too ready for painting.
Solar Powered Roof Ventilator Installed
One of the easiest and most effective ways to keep your roof structure in good condition and make a small dent in cooling bills is to have a roof ventilator installed in your roof.
For this project Roofrite installed into the main roof cavity the Solar Star RM 1600: a solar powered roof ventilator with whisper quiet technology.  It will help keep the home cooler in summer and prevent condensation building in the winter months.
Pricing
A project like this one takes our team around 8 to 10 days from start to finish and falls in the vicinity of $27,000 to $34,000 depending on whether you chose to go with Zinc, Colorbond, Galvanised or a Coolmax finish.  Apart from the roofing component, the pricing quoted above includes gutter replacement, downpipes, 3x skylights, the roof ventilator, a bathroom flue, scaffold hire and skips for the removal of all the tiles from the site.  And of course, a VBA Plumbing Compliance Certificate!
Tel: 03 9499 8059