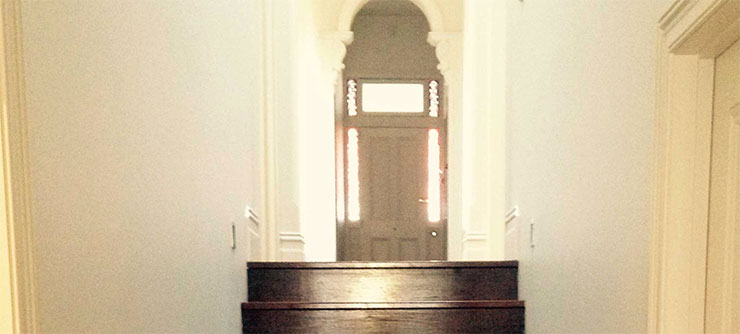 Velux FS Fixed Skylights Optimise the Daylight
The Velux FS Fixed Skylight range is ideal for out of reach situations where daylight is required but ventilation isn't necessary. This makes them perfect in areas such as hallways, stairwells, and other closed-in, dark spaces that would be improved with daylight and sky views.
Velux FS Fixed Skylight Brings Sunshine to our Client
A great example of this situation was a recent Roofrite project in Kew where our client wanted to bring in the daylight to a small hallway that linked the rear extension to the renovated original house.
We installed a group of 3x Velux FS C04 (550mm x 980mm) Fixed Skylights into the corrugated zincalume west facing roof but pitched (raised) the skylights to face in a northerly direction so as to optimise the amount of natural daylight that could be filtered into the hall below.
Velux FS Fixed Skylights with Roofrite Customised Flashings
As Roofrite are licensed metal roof plumbers, creating customised flashings means we are able to create an extremely neat watertight finish on the roof. We installed insulation into the shafts too. The shafts were built by a Roofrite affiliated carpenter and lined with plasterboard.
The client arranged for their own painter to paint the shafts to complete the professional finish.
The result is stunning.
The hall is now light filled and as the sun moves across the skylights, an amazing play of shadow takes place across the wall. The light takes on different hues too from bright white to a golden glow.
The Velux FS Fixed Skylights really are a spectacular complementary addition to an already stunning home.
Velux FS Fixed Skylights with Blockout Blinds
The addition of blockout blinds creates a more cosy finish for winter nights. The blockout blinds also serve as a subtle reminder of how dark the hall was prior to the installation of the skylights.
Velux FS Fixed Skylight Project Costs
This project involved scaffold hire, three shafts to be built and lined with plasterboard, custom made flashings, and three double glazed skylights to be installed with blockout blinds. The price range for a project of this scale is between $10,500 – $12,000. We issued a VBA Plumbing Industry Commission Compliance Certificate on completion too ensuring the client had an industry backed Workmanship Warranty.
For more detailed technical data on Velux FS Fixed Skylights, please see the Velux FS Fixed Skylight Technical Data Sheet.
Tel: 03 9499 8059
The guys were very considerate with cleaning up… The skylights make such a significant difference to the light we get in the middle of our house. We get various light effects during the day with the daylight on the walls and stairs, they really look good and we are so glad we put them in.  When we close the blinds on the skylights we can see how dark those stairs were and I can't believe we waited so long! Should have put them in years ago!
B&A – Kew (March 2015)