Is an acrylic skylight dome replacement possible with a Velux glass skylight?
Roofrite is often asked if an acrylic skylight dome replacement is possible with a Velux glass skylight.
The simple answer is yes.
Why would you want to?
An acrylic or polycarbonate skylight dome will fade or discolour over time. In addition, acrylic and polycarbonate products can become brittle resulting in cracking and eventual leaks. As the image below shows, with time, acrylic skylights don't weather well long term.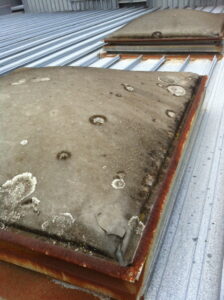 Why choose to replace an acrylic skylight dome with a Velux glass Skylight?
When swapping an old acrylic or polycarbonate skylight for a Velux glass skylight, the benefits are many.
For starters, Velux skylights have a maintenance-free anodized heavy-gauge aluminium frame that withstands the extremes of our Australian climate.
In addition, Velux skylights come with NEAT coating on the outer pane reducing cleaning frequency.
Above all, Velux skylights offer high performance double glazing as standard with an insulated all metal exterior frame. The laminated glass on a Velux skylight will not fade or discolour with time.
So, you get the lovely visual of the sky above with 99% protection from UV rays and around 75% of radiant heat blocked – a great "cool" daylighting solution.
When swapping your old acrylic dome for a Velux skylight you really are getting a superior product for a similar price.
For flat roofs, Velux skylights has 3 skylight sizes that can be used as direct replacements for standard 400x800mm, 600x800mm ad 900x900mm acrylic domes.
Where the acrylic dome replacement is not a standard size, it is still possible to replace the acrylic dome with a Velux skylight by installing a picture frame style flashing around the exterior throat of the existing dome and then installing the new Velux skylight over the top.
Velux skylights come with a 10 year guarantee.
Acrylic Skylight Dome Replacement with Velux Glass Skylights – Case Study
Roofrite recently replaced three acrylic skylight domes with three Velux glass skylights for a client in West Melbourne.   The project was on a flat roof with good access and was completed in one day for around $2,500 inc GST.   That works out to around $830 each including skylights, labour, and all rubbish removed from site.
Our client is very happy with the result – "Everything has been great, very smooth, and good service" (Z.P, West Melbourne, August 2014).
Tel: 03 9499 8059