Have you got wasted roof space that you'd like to convert into an attic?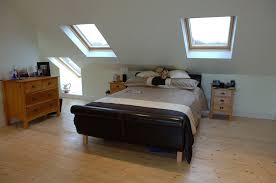 In some houses, roof cavities are simply the place that holds the electrical wiring, some ducting for heating or cooling and the insulation.  But if your roof cavity is high enough to stand in, it makes it a great space to convert into an attic room.  Add a Velux Skylight or roof window and now you've created a space with fresh air, daylight and great views.
Have you got the right space for Velux Skylights?
Some roof spaces are more easily converted than others and a full assessment requires professional help. But the untrained eye can often work out the basics. If you're able to, go up into your roof cavity and take a look around.
Is there enough headroom at the centre of the ridge?
You ideally need 2.4m clearance, although you may find that you can still get a useful room from as little as 2.1m. A quick check with a tape measure will suffice.
Also try to assess whether your roof was built using trussed rafters or purlins.
Traditional rafter and purlin construction
If you have a traditional rafter and purlin roof construction, you have the ideal roof for a loft conversion as it usually has a reasonably steep pitch and relatively clear spaces between the supporting framework.
Modern trussed rafter construction
This type of roof usually has a shallow pitch and more struts. As a result they are more difficult to convert. Look out for thin sections of wood (typically 75mm) and tell-tale rectangular metal plates used to join the timber together. Velux has skylights and windows to suit typical truss spacing (eg 550mm wide models for the 60mm truss spacing).
Once you've established the above, give us a call and we can advise you what to do next to get the ball rolling. Of course, we can establish the roof type for you if you're uncomfortable about getting in the roof space. It's all part of our quoting process.
Call our office and we can schedule an appointment to measure and quote. You can also visit our Velux Skylight Showroom in West Heidelberg to see a range of Velux Skylights, complete with shafts and blinds, installed in our roof.
When you have Velux Skylights installed by Roofrite, you have peace of mind knowing your Velux Skylights are being installed by licensed roof plumbers: professional tradespeople who understand roofs.
Watch our short video below demonstrating the installation by Roofrite staff of a Velux Skylight Roof Window into a tiled attic roof. This is a GHL M06 (780x1180mm) model: Dual action with high performance double glazing.
Tel: 03 9499 8059