Repairing hail damage to polycarbonate & skylights
Hail damage to polycarbonate roofs and skylights is becoming an increasingly common problem for Australian homeowners and landlords.
Roofrite can assist with the replacement of hail damaged polycarbonate roofs and skylights or domes.
Simply call our helpful administrative staff to discuss your particular hail damaged roofing problem. Depending on the issue, we will usually schedule an appointment for one of our team to come and assess the damage, make recommendations for an effective solution, and then send you a quotation for you or your insurer to act on.
Perhaps it's a while since you've had your polycarbonate roof or skylight installed?
Hail Damaged Polycarbonate
These days polycarbonate products come in a range of colours and profiles including multiwall and Laserlite.
While you're replacing your hail damaged polycarbonate roof, you may want to consider upgrading or giving your existing polycarbonate roof an update.
Polycarbonate products generally offer UV protection and many incorporate heat reflective technology. Ask us about Polypiu's multiwall range and Palram's Sunlite twinwall roofing. They both make excellent polycarbonate products well suited to pergolas, verandahs and carports.
Hail Damaged Skylights and Domes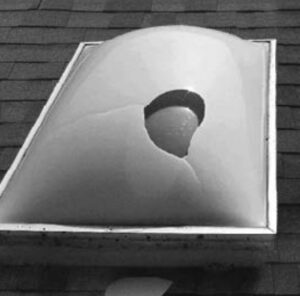 Roofrite can also assist with replacing your hail damaged domes and skylights.
Velux Skylight's FCM range is an ideal replacement for hail damaged acrylic domes. High performance double glazing is standard in the range and unlike acrylic or polycarbone domes, the laminated glass won't fade or discolour over time. Of course, being glass rather than perspex, it will also offer a glimpse of the sky and bring much more daylight into the interior space.
And as for future storms causing hail damage? In simulated tests, Velux skyights have withstood hailstones the size of cricket balls launched at speeds experienced in heavy storms.
Our aim is to help you with your hail damaged polycarbonate & skylight repairs.
Call Roofrite today on 9499.8059.